A little over a year ago, I had a dreadful hair fall problem. Actually, it was the second time already since I gave birth to my first-born son. When I had my second child, it was worse than I expected, to the point that I sweep humungous amount of loose hair in every corner of the house. I was quite alarmed since my daughter was already 18 months old that time and it seems that it's getting worse by the day. I felt like the post partum hair fall takes too long already and that my hair is getting thinner too. There was a point that my hair has decreased in volume and looks limp due to the excessive hair fall.
I was given the opportunity to try out a product that has a promise of solution to my predicament--Novuhair hair fall solution. They sent me products to try out few weeks ago and was ecstatic to try them out. But first let me tell you something about the product first.
Novuhair boasts of natural herbs, essential oils and co-factors nutrients that are proven and used for centuries to treat hair problems the safe and effective way. It is a topical scalp solution combining standardized herbs with essential oils and co-factor nutrients, specifically chosen for hair growing properties.

It penetrate deep to rejuvenate the hair follicles, provides optimum nutrition to help combat hair loss and/or thinning of hair, improves blood circulation in the scalp which contributes to the stimulation of hair growth.
Active Ingredients of Novuhair: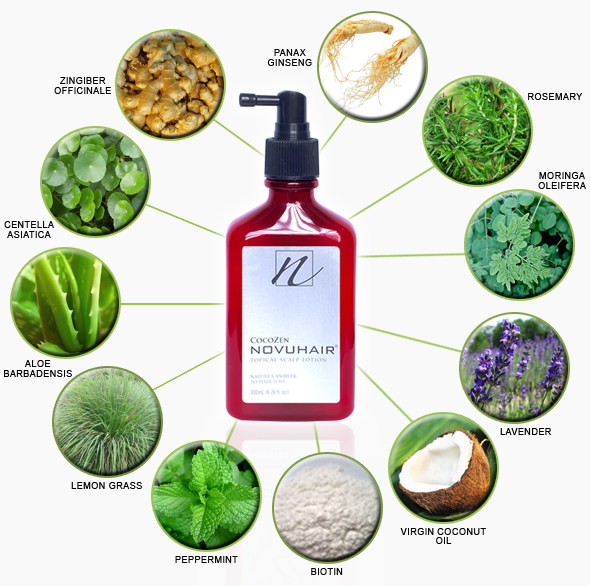 Zingiber officinale (Luya)

-

a blood circulation enhancer.

Moringa oleifera (Malunggay)

– prevents falling hair and strengthens the immune system.

Panax Ginseng (Ginseng)

- nourishing effect on the scalp and believed to stimulate hair growth and aids in blood circulation.

Centela Asiatica (Takip-kohol) -

improves blood circulation and naturally promotes hair growth.

Aloe barbadensis (Sabila)

- a hair conditioning agent and hair growth stimulant.

Virgin Coconut Oil (VCO)

- clears away dirt and improves blood circulation and stimulate hair follicles to promote hair growth.

Peppermint

- retards the growth of many varieties of bacteria and fungi.

Lemongrass (Tanglad)

- helps clean skin/scalp pores leaving your hair healthy and refreshed.

Rosemary

- stimulates hair growth, disinfect the scalp, increase blood circulation and improve hair health.

Lavender

- relieves itching.

Biotin

- promotes health hair and skin and prevents hair loss.

Phyllantus emblica (Nelli)

- nourishes hair and scalp thereby promoting black and luxuriant hair growth.

Dexapanthenol (VitB5)

- important hair and skin nutrient that supports rejuvenation and longevity.
What you see above, are mainly natural ingredients, which some can be found in our backyards.

Chances of allergic reaction that might occur are slim which is my main concern every time I would try a new product.
Now let's go to the verdict.
Novuhair Shampoo. The formula has a thick consistency with a mint scent that when applied to wet hair gives refreshing feeling. It has also nice lather, which effectively removes oil and dirt off my hair and gives a light feeling afterwards.
Novuhair Conditioner. Its conditioner has also a nice citrus scent, which makes my hair smooth leaving a nice volume when hair dries. After few weeks of using it I noticed that my dandruff was slowly diminishing making my scalp less itchy.
Novuhair Lotion. This is my favorite among the three products. I use it every morning and night alternately. Once you apply the lotion to your scalp you can feel the cold mint feeling and for the product to penetrate on the scalp it will help if you give it a little massage. It helped also in depleting my dandruff, which is also my main concern because aside from being itchy my scalp becomes red from too much scratching. Please do take not when you apply the lotion, it is advised that you wear dark clothes as it might cause stain.
I am on my third week of using the product and the results were amazing. I not only found a solution to my hair fall but also with my scalp issues. I truly recommend this to those who are having dandruff and hair fall problems.
Now you may ask how much it cost?
1 bottle of Novuhair costs Php 2,800
Package with 2 bottles – Php 3,980
Package with 3 bottles cost Php 4,980
Novuhair products is available at Mercury drugstores, Watsons, South Star Drug and Rose Pharmacy.
If you want to know more about the product you may visit their website here.
Connect with them through facebook here.
Follow them on twitter here.
Visit their youtube here.
Disclaimer: This product was sent to me for review and everything that is written here is based from my honest opinion.