The past months have been pretty tough. A lot of things to be done, too much things to worry and paranoid of the things to come. Being a SAHM with a toddler and a baby is a handful plus the chores and other responsibilities.
Eversince I became a mom, I pledged that I will raise my kids full of love and respect. I envision them to be loving kids in the future and become good citizens and molding a good person starts at home. My kids are the primary reason why I sacrificed the decent life (not that we are not provided) because I want to do the parenting not just anyone else. A sacrifice that is inequitable of anything life could give.
I remember those times when I was a kid when we are asked to do something and we disobeyed, few minutes I would hear scream around the room and later on we are already punished for bad behavior. Growing up was easy from the start but since we discovered independence, I would hear impositions that certain things should be done etc. At first it was fine and I thought it was normal for parents and elders to do that. But it was only when I reached college that most children do rebellious acts because of too much imposition.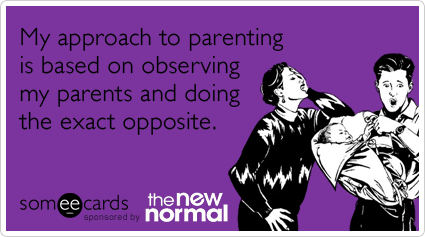 Two weeks ago, I had allergy attack and was too exhausted to even move and all I hear are wailing and whining kids. Little boy doesn't like to eat dinner and baby girl is too grumpy and always crying in her playpen. I was on my boiling point again and was still controlling myself not to snap. I was telling them to behave because mama has ouch and sick but little boy doesn't seem to understand. He continued to ask for water and sandwich and threw the unfinished sandwich in the trash bin and asks for more. Then, I snapped. I told him, "no more sandwich!" "Go back to your room!" He left the table crying and threw all the toys on the floor. Next thing I know, I hit his hand. I was so mad at his attitude. Little girl is also crying because kuya is crying but her cry was louder than her kuya.
I left their room and went to our room and shut the door for awhile. I tried to breathe and think hard." What happened again? Was is too much for me to handle? Am I failing already as a mom?" Little I know I found myself crying and sobbing in tears. Then the kids stopped crying. Few more minutes, my little boy knocked the door and I opened it for him. He saw me crying and hugged me tightly and said, "mama,toyi (sorry), Mama no cry." I apologized to him and explained why I have been so exhausted. Told him mama is sick and tired and needs rest. Little boy said, "okay mama." Then I realize how terrible I am as a mother!
I tried to reflect on his actions and how I reacted to them. He threw the unfinished sandwich because he doesn't like eating the sides. He threw the toys on the floor because he wanted to impose his rights. I know he would understand some things and maybe he is too young to understand that it is not right to waste food. Though there are times that he would but I guess it needs more patience to finally let him understand all these things.
I have been a very patient person prior to becoming a mom. I remembered to handle the most difficult patient in CV-SICU years back but I was able to survive it. The patient and even relatives thanked and apologized for being a difficult patient. I have come to practice patience since I graduated college since I would be needing it in my work. But now, my kids needs it more than anything and the love I would show them.
These things happen for a reason. I don't consider it a punishment but an opportunity for me to become a strong woman and good mother. It may be hard but the pride of raising them well is enough to pay off all the sacrifices. J would always tell me, "you are doing good in discipling your kids but try not to be tough." Somehow, I had a pat in the back for not sulking into my parenting.
Lesson : Patience is never gained overnight and needs constant practice. Kids needed much attention and love a parent could give and should think twice whatever comes out of my mouth. Most of all, even if they are little kids, they also deserve the respect of parents and so they would know how to respect us also. Respect is not imposed, it is gained.