First of, I would like to greet my baby girl happy 11 months old! Time flies and yesterday you surprised me with an independent attitude! I would miss you being so helpless but it makes me happy that you're growing up so fast.
It's barely a month and my little girl is turning 1 year old! Now, I am so excited to prepare for her double celebration -- christening and first birthday. The reason we made it on the same day is because of what happened on Jolo's christening wherein few guests were able to make it due to their busy schedules. So as early as now I am already making invites and finally booked the birthday celebration at Mc Donalds. The birthday package from Mc Donalds was a grand prize from EQ's birthday package. Read about my post here.
The birthday package includes party theme of php 2,000 and food package of php 5,500 from EQ diapers. As for the Mc Donalds birthday packages, you may visit their website here.
Their birthday packages includes the following:
venue and amenities

food

party hats

balloons

loot bags

hosting

invitation cards
If you would like a themed party other than Ronald and the Gang, they offer also different characters like Disney Princess and Mickey Mouse provided an additional cost. If you have decided on hosting a party at their venue you may book in advance so have get to book the time of your choice. I choose Disney princess for my little girl's party to make it more special. It is a hassle free party and all I have to prepare is my little girl's dress for her birthday, christening and the church preparations which includes the godparents.
For her dress, I would like a tutu dress but will have to do it on my own. I saw some online sellers which makes customized tutu dress for babies but way too expensive and I thought I could make one and be able to choose my own embellishments.I bought a blue and pink tulle and cost me only php 80 for 6 yards.
Image from google









For her cake/giveaways, since I decided to provide my own and Mc Donalds doesn't allow cake to be served to the guests, I decided to have a small fondant cake and a cupcake tower. The cupcakes and cookies would serve as the giveaways. Since I have a very talented friend who makes cakes and cupcakes for me, I asked her to make AJ's birthday cake. If you are hosting a birthday or event and would love a cake but on a budget, you can visit her facebook page here. She would love to help you out. Anyway, here is my inspiration for her cake, cupcakes and cookies. Because I love Hello Kitty, I would love her cake to have Hello Kitty cake (I know it's a bit self serving idea).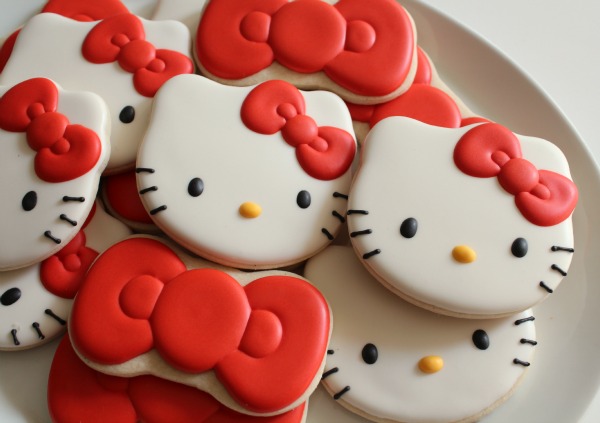 Aren't they cute? Now, I have to start my project which is the tutu dress. I have less than a month to finish and polish everything. Will update you of the celebration.
How about you? How did you celebrate your kids' first birthday? Share your thoughts.
xoxo,
ning