My weekend is intended for general cleaning of the apartment and attend mass with J and the kids. But since this weekend I had rhinitis and was so sick and too lazy to clean our apartment, I just watched tv with the kids and J the whole morning. The plan was to hear mass after the kids took a nap, buy some shoes and watch lights and sounds at Ayala Triangle afterwards. The kids woke up late from their nap around 6p.m. so we went straight to Landmark to buy some shoes for the fashion show (which I will blog later on).
I asked J to help me look for beige and decent looking shoes. The kids are so grumpy and little girl wants to be carried while I'm looking around for shoes and on the other hand my little boy wants to remove his shoes also and wants to try some shoes from the stalls. I don't know if I'll get pissed or laugh at him because he is making sense already. Anyhow, after looking around I found a perfect beige wedge and I immediately fell in love with it. It was also J's choice so we bought it and went off the church to hear mass.
Because we were in a hurry to catch up the last mass at Greenbelt I wasn't able to check the kids' bag for the completeness of their paraphernalias (toys). I just grabbed food and drinks for them in case they get hungry. After almost 30 minutes and halfway of the mass my little boy got rowdy again and bored so we decided to go to the lights ans sounds show at the Ayala Triangle hoping to provide a solution to his grumpiness. And we went.
It was 8:30p.m. already and we only got 30 minutes to watch and enjoy the show. It was packed with alot of people who patiently waited for the last show to start. When we got off the lift, the park was still dark but when the show started, my little boy began to cry ended up with parents not enjoying the light show. Another fail! Imagine my son carried by J while he was taking our photos. He stopped crying immediately after the show ended.
I'd like to share our photos last year, December 2011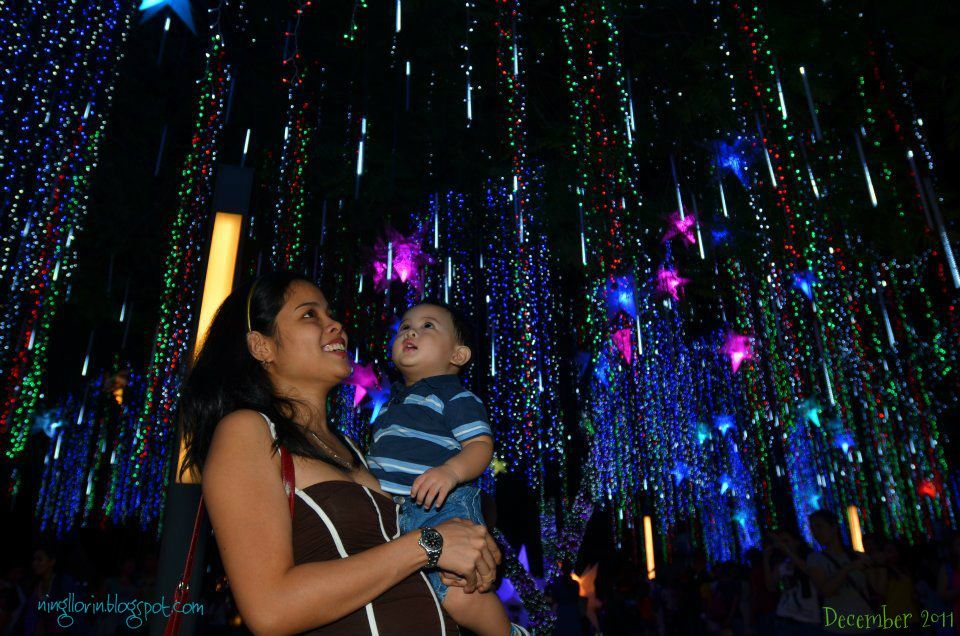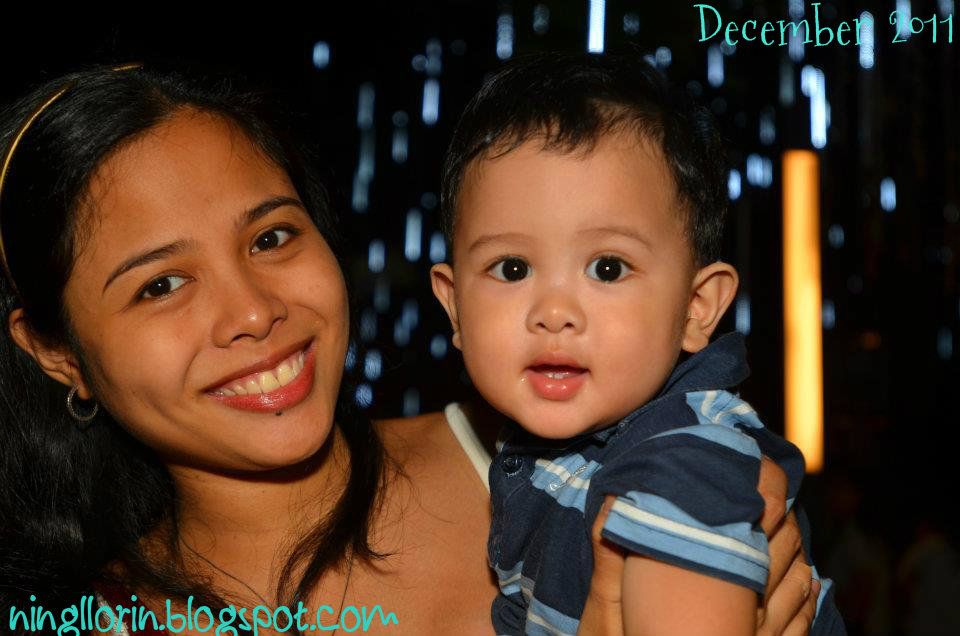 (one little boy crying and suddenly got scared of the lights)
(floral top:from mom, black lace skort:thrifted, bag: thrifted,wedge: divi,accessories:from divi)
After the show we decided to go home because the kids are grumpy and so we can have rest. When we were on our way out J came past the Ayala exit where we're supposed to get off so at the end of the corner parking lot he switched his hazard light and maneuver the car and did reverse almost near another car behind us. When he drove near the exit, I saw from the rear mirror an arrogant man went out of his car and pointing at Bubu. I asked J to pull over and talk to the man. It took us 30 minutes of our time and the kids inside the car are already rowdy and bored despite the dvd continuously playing their favorite show. It ended up with the man didn't give out his complete name and got J's number instead. He was telling J that his car was hit by Bubu. When he pointed out to the side where Bubu allegedly hit him turns out to be dust (Bubu didn't get a carwash yet that time) and no traces of his car paint or any scratch on it. What they agreed upon was if it doesn't come off with buffing he will contact J for the detailing of his car. Up to this time, he hasn't called J yet of the matter. I guess there was no really alleged incident happen and the man was just mainly fault finding.
As we are reminiscing the whole day inside the car while driving home, we saw a cab run off the plant box on the corner of highway. Few by standers are pooling around the area already. Good thing the cab doesn't have passengers or else a total disaster!

What a long day. How was your Sunday so far?

xoxo,

ning